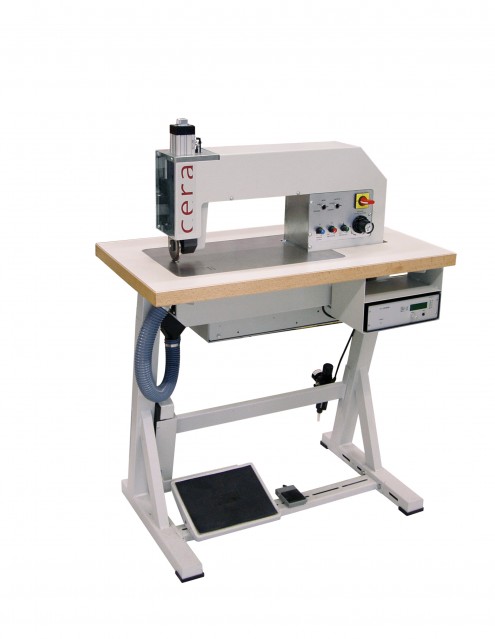 Contact us
Process
The ultrasonic rotary process (welding wheel and horn rotating on a parallel axis), allows a perfect sliding of the fabric to get:
· Waterproof welding
· Cut and weld assembly
· Regular welding
· Multiple patterns …
· Welding width: 8mm
You are interested in our technology but you have more specific needs? Check the different standard modules we use on this machine and see how you could integrate them to a more personalized machine.
Fabric features
· Any type of thermofusible fabric
· Plastic webs
· Non-wovens
· Technical textiles …
Technical features
· Speed in production: up to 20 m/min
· Sonics: 35 kHz
· Electrical tension: 220 V single phase, 50 or 60 Hz
· Pneumatic: 6 bar
· Overall machine dimensions:
– Dimensions (inm.): 0.90 x 0.60 x 1.21 (l x w x h)
-Weight: 100 kg
Why Cera Engineering ?
Because we combine years of experienced know-how in ultrasonic welding, with a technical expertise as a manufacturer of production machines. Industrial equipment at competitive prices. A wide range of cutting and welding tooling.
Other machines to ultrasonically cut and weld
Cera Engineering manufactures a range of ultrasonic welding machines dedicated to continuous and intermittent welding, cutting and marking of thermo-fusible fabrics.
CERA Ultrasonic Kit – Ultrasonic kit to cut, weld and mark in continuous
CERA CR-US machine – Ultrasonic cutting machine, programmable to provide straight and inclined cutting of thermo-fusible fabrics
CERA 100 – Ultrasonic welding machine to provide stat../standards/machines-to-weld-and-or-cut-by-sonics/cera-ultrasonic-ultrasonic-sewinic welding and / or cutting
---